SUMMARY OF PHYSICAL ASSETS INCLUDED IN THE SALE OF THIS EXOTIC & DIVERSE CITY LOCATED IN BOOMING UDON THANI, THAILAND
สรุปตามบัญชีของสินทรัพย์ทางกายภาพรวมในการขายของเมืองนี้ EXOTIC DIVERSE และตั้งอยู่ในเฟื่องฟูอุดรธานี, ไทย
实物资产概要包含在这异国和多元化的城市坐落在生机蓬勃乌隆他尼,泰国销售
物理的な資産の概要はタイウドーンタニブームに位置このエキゾチック&多様な都市の販売含ま
Сущность физических активов, включенных в продаже этого экзотического и разнообразный город, НАХОДЯЩИХСЯ В БУМ Удон-Тхани, Таиланд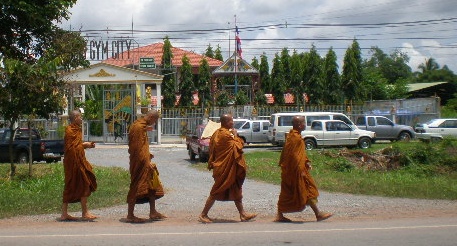 SOUTH WESTERN FRONT CORNER OF BIG GYM CITY ON A BUSY DAY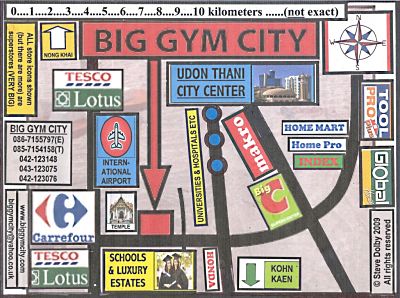 MAP OF BIG GYM CITY SHOWING LOCATION & APPROXIMATE DISTANCES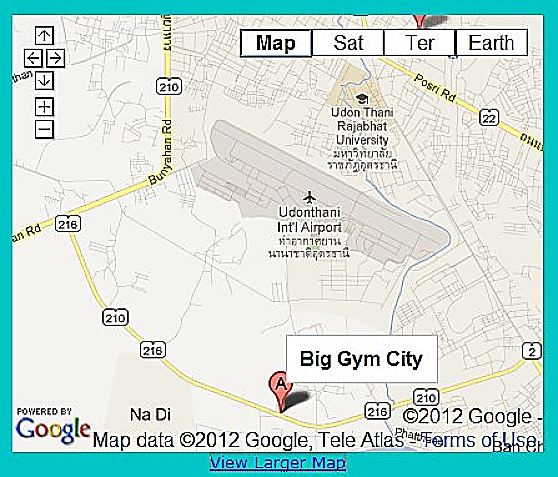 Big Gym City is SERIOUSLY well located (here shown on Google Map)
a.) LAND SIZE & LOCATION = (2,472sq m [Freehold Title] with disproportionately wide Ring Road frontage. Current value Thai Baht 8,000,000 per Rai (which is the Thai unit of land size that equals 1,600sq m.) as per 2012 land prices paying NOW for other similar ring road frontage sires e.g. the many housing development projects now under construction in Udon Thani (Thailand's 2nd fastest expansion (after Phuket) City) .... with only standard Ring Road frontage in 2009-10. Therefore 8,000,000 divided by 1,600 then times 2,472
Late 2009 Value (not taking into account wide frontage)................................. B12,360,000 (2012 value) .... (2014 land value based on the news articles below is about B16,000,000/rai x 1.5 = B24,000,000 & rising.

--------------------------------------------------------------
...
REPORTS ON RISING LAND PRICES IN UDON THANI
8th March 2013 FROM THAILAND'S TOP ENGLISH NEWSPAPER
Udon Thani
Land prices soar as new projects launched
Somluck Srimalee The Nation March 8, 2013 1:00 am
Porntip Thanasriwanitchai, president of the Udon Thani Property Club, said property firms in Bangkok were expanding their investment in Udon Thani, which had boosted land prices, especially around the ring road (Big Gym City is ON this road) that links the perimeter of the city.
Porntip Thanasriwanitchai, president of the Udon Thani Property Club.
(08 Mar 2013 Published in ASEAN Property News)
Thailand Listed property firms are rolling out residential projects in Udon Thani before the Asean Economic Community gets going in 2015, as the north-eastern province is the gateway to Vientiane, the capital of Laos.
"Udon Thani has all facilities to support people's lifestyles. Most retail businesses have opened a branch in this province," Naporn Sunthornchancharoen, CEO of Land & Houses says "It is suitable for Thai and foreign investors to use as their hub to invest in Laos when the AEC blooms in 2015."
According to a survey by The Nation, Land & Houses, Sansiri, Supalai, LPN Development & Pruksa Real Estate bought land in Udon after strong demand from local & foreign investors. Most buyers have a business in Vientiane but prefer to live in Udon because it has better facilities & is only 2 hours drive away.
Land & Houses became interested in Udon when it noticed demand from both local & other province investors who set up in Udon to export or trade with Vientiane. Land prices in the central business district of Udon have shown signs of doubling, said Porntip Thanasriwanitchai. Leading property firms from Bangkok have started to look for land in the CBD. For example:
*The cost to buy centrally located land has surged at least 100 per cent from Bt100,000 per square wa to Bt150,000-Bt200,000, she added.
*The Udon Thani Provincial Lands Office has raised assessed values by an average of 61 per cent.
* For example, land on Posri Road in Udon Thani city shows an official reference price of Bt150,000 per sq. wah or Bt60 million per rai.
* But the market price averages Bt200,000 per square wah, (Bt80 million per rai) Porntip said.
* Udon Thani's property market averages Bt8 billion a year, of which a third is developed by 22 local builders, a third by landowners who hire local contractors and a third by local homebuilders.
Housing demand from natives of Udon also comes from marry foreigners & those who work overseas & send money back to their family.

-----------------------------
The Nation March 19, 2013 1:00 am Somluck Srimalee
Provincial land prices double as big developers go upcountry
Udon Thani province has also seen land prices rising sharply, from an average of Bt20 million per rai on Phosri Road two years ago to between Bt30 million & Bt40 million now.
This is down to leading developers Sansiri, Asian Property Development, LPN Development, Land & Houses and Supalai all having shown interest in expanding their investment in the province.
---------------------------------
BANGKOK DAILY TRAVEL NEWS
(Asian Highway)

Land transport has gained some long-overdue respect as of July 2005 with the coming into force of the Asian Highway agreement to link up 141,204 kilometres of roads and highways from Indonesia to Turkey. Thailand will be a critical player in this highway network which will make it possible for people to drive from Singapore to Kunming, and from Yangon to Ho Chi Minh City, all via Thailand
--------------------------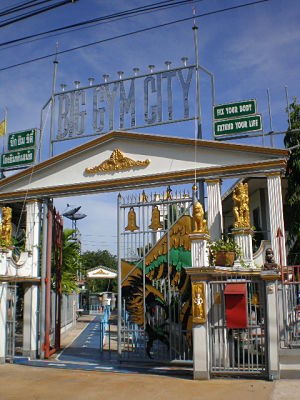 VIEW TO NORTH FROM 7m HIGH MAIN GATE (2nd Roman Gate in background.)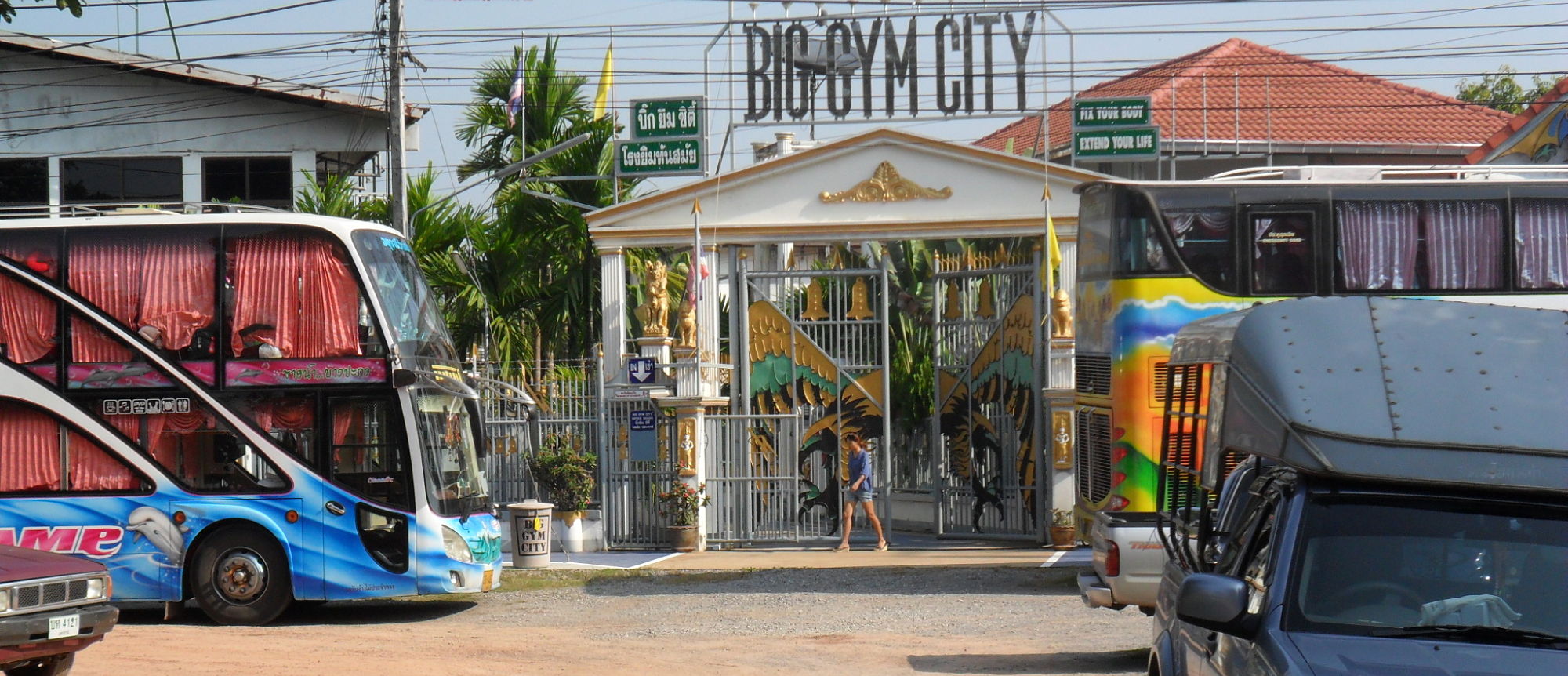 VERY busy day (October 2-11) outside the 8 meter high main gate of Big Gym City .... 2 famous temples lie to the east & west .... & coach loads of visitors park in front of Big Gym City !!!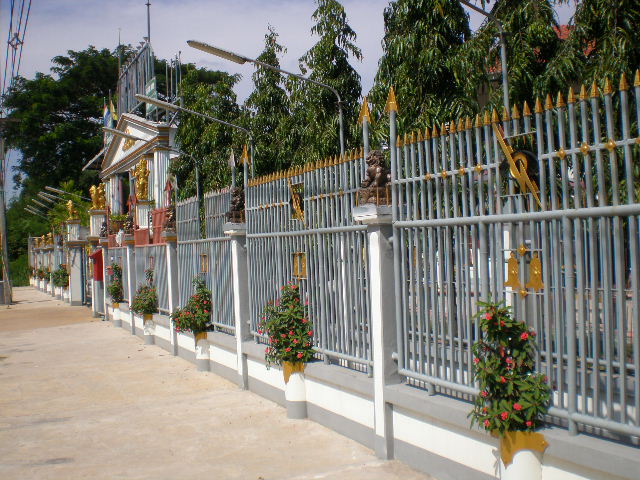 PART VIEW OF BIG GYM CITY SECURITY WALLS (double spaced 1 m apart)
b.) WALLS: Total perimeter of well over two hundred meters of ornate high security wall [with concrete columns, footings & beams interspaced with strong decorative steel fencing. All well constructed. This is a DOUBLE (inner & outer wall) which demarks the long jogging track also includes several ornate gates [such as the 7m high Roman Eagle Gate]
Late 2009 Value ......................................B2,500,000 ... 2014 Value about B3,000,000-
_______________________________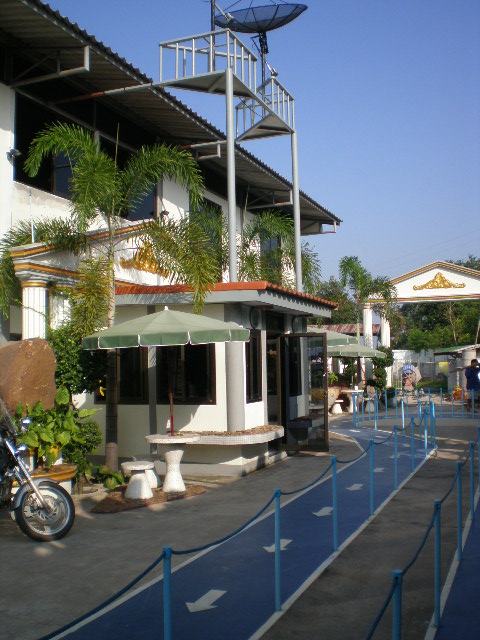 CENTRAL SECTION OF GYM BUILDING (& Jog track No.2 & spare owned land to north.)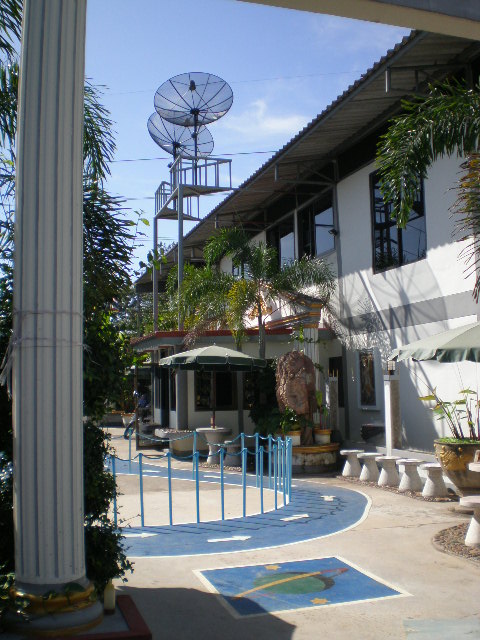 NORTH EAST SIDE OF THIS LONG 2 FLOOR MAIN GYM BUILDING
c..) MAIN GYM BUILDING [2 floors])About 5,000 sq ft inside floor space. 10 Tvs, multple roman columns, fully aluminium window enclosed, office, electrics & electronics, 4 washrooms. 2 X 2m movable satellite dishes with all distribution systems in place, Luxurious & solidly & ornately built. Value of building (not machines etc)
Late 2009 Value............................. .B3,000,000 .... 2014 Value about B3,500,000-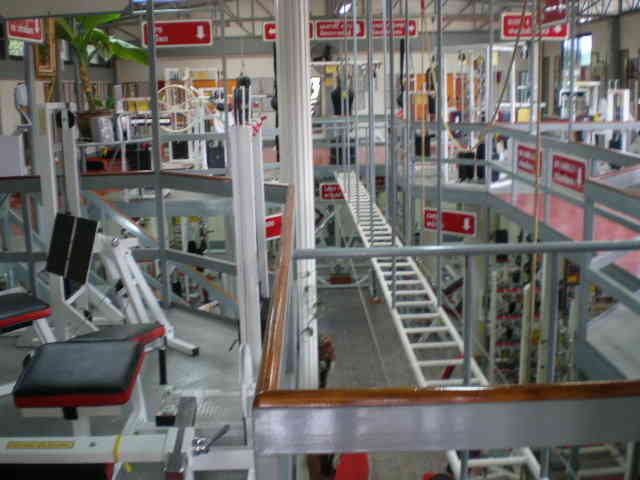 PART VIEW OF MAIN GYM BUILDING ( 2nd floor to north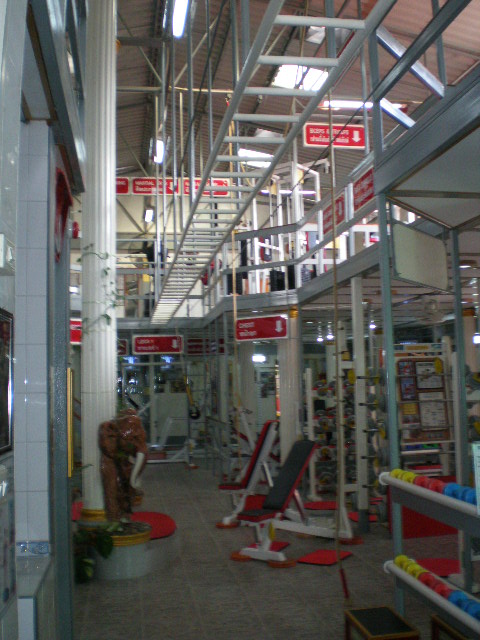 PART VIEW OFBIG GYM CITY MAIN GYM BUILDING (1st floor to north.)
d.) MACHINES & SPECIALIST EQUIPMENT consisting of well over 120 high class professional quality machines, multiple free weight sets & cardio equipment A spectacular private gym for a super VIP or one of the top few equipped commercial gyms in all Thailand etc. Value......... Stock at valuation (half price to property buyer)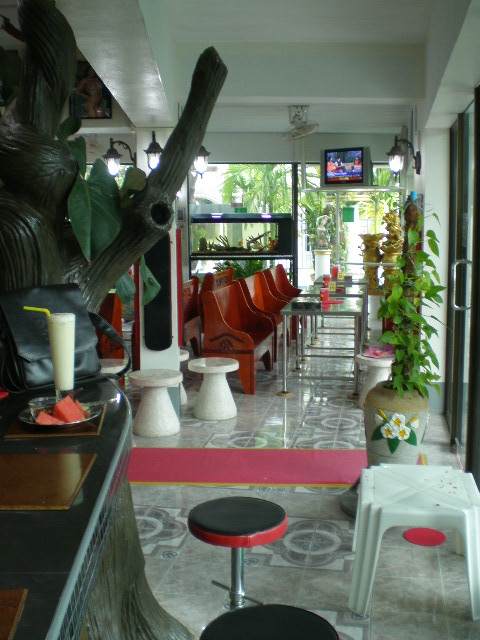 PART VIEW TO EAST OF SOUTHERN HALF OF
BIG GYM CITY EXOTIC SNACK BAR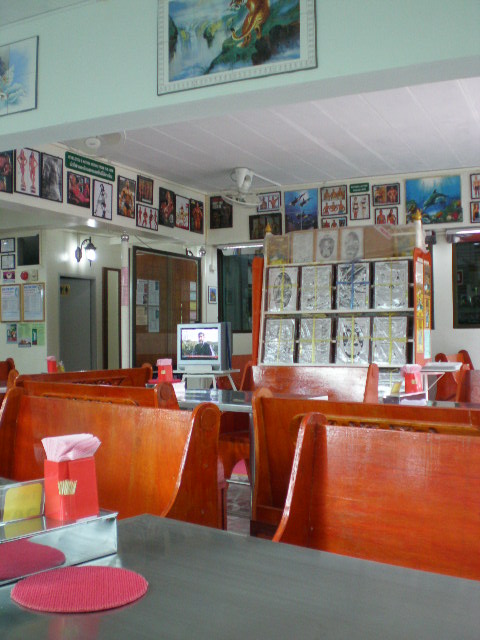 PART VIEW TO NORTH WEST OF BIG GYM CITY
EXOTIC SNACK BAR.
e1.) SNACK BAR. (or private luxury guest lounge) Fully safety glazed 70+ seat ornate aircon seating. Strongly constructed to a high finish with 2 x satellite systems (TV) , Commercial stove, refrigerators etc & a view into the gym for diners. A high class & ornate decor with functional stainless steel tables, pictures of workout & movie stars, with 2 x aquariums & a dragon fountain in the corner.... A multi purpose comfortable meeting place & lounge that family, guests, customers or business associates are guaranteed to enjoy. ....( For value see below ....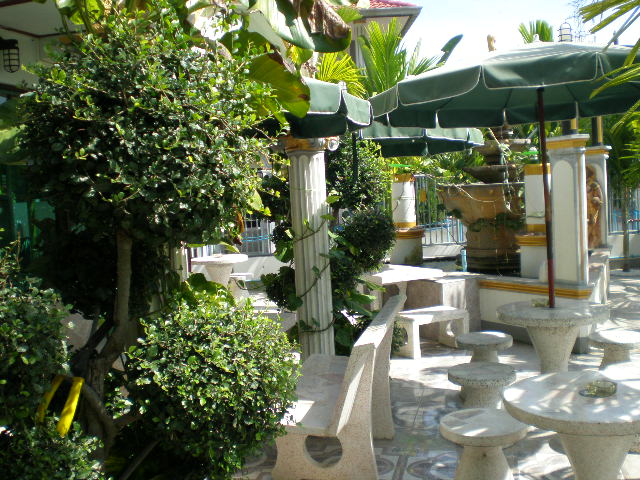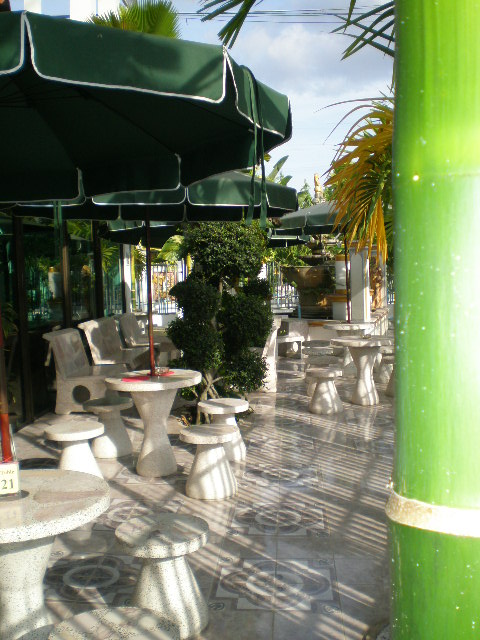 VIEWS TO THE EAST OF THE EXOTIC PATIO & FOUNTAIN IN.
e2.) Opens onto the exotic 40+ seat patio with mature palms & jungle foliage PLUS the spectacular 3 meter high cascading fountain, granite bar with 3 m high stone trees, roman arches & columns, massive boulders etc. Exotic & spectacular. 2009 Value:............................B3,000,000
2014 Value about B3,500,000-
_________________________________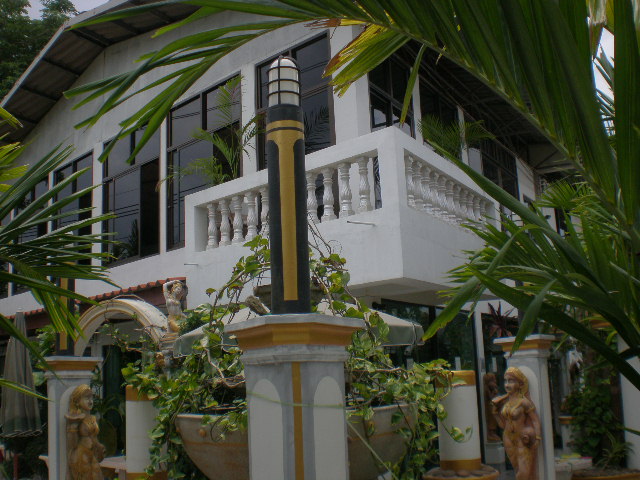 12 m WIDE PANORAMIC 100sq.m. 2nd FLOOR OFFICE SPACE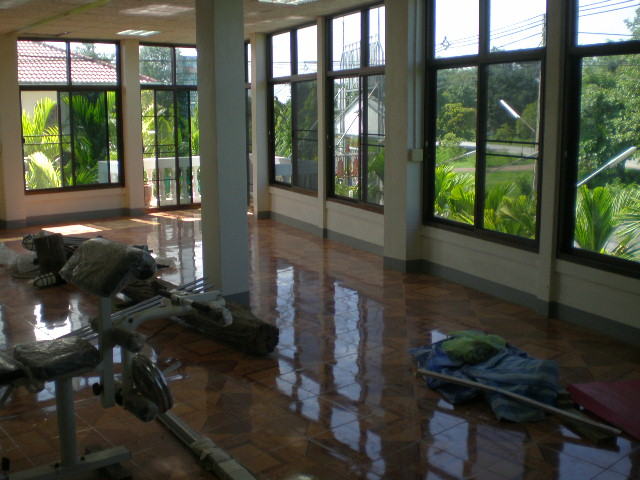 FULL ALUMINIUM GLAZING WITH VERY HIGH VISIBILITY FRONT.
f.) PANORAMIC 100 sq m OFFICE.(12m frontage) 100 sq m floor space... Could be prestige office (eg lawyer, dentist,insurance HQ etc ) or luxury apartment or 2nd restaurant, etc. This room is fully glassed on two sides (30+ m) with commanding views & LARGE (14m x 1+m) unused sign display area (signage). Fully tiled with ensuite showerroom, storeroom & 2 entrances. Overlooks exotic 3m high fountain, fully tiled ornate patio with rows of mature palms), beautiful! ....& beyond this a panoramic 200 degree view of Udon Thani superstore connecting city ring road. 2009 Value.........B2,000,000 ....
2014 Value about B2,500,000-
__________________________________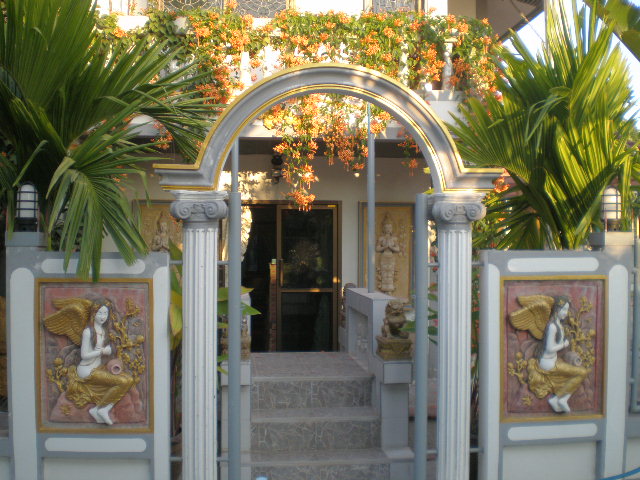 MAIN ENTRANCE IS BRIDGE ACROSS THE DRAGON POOL.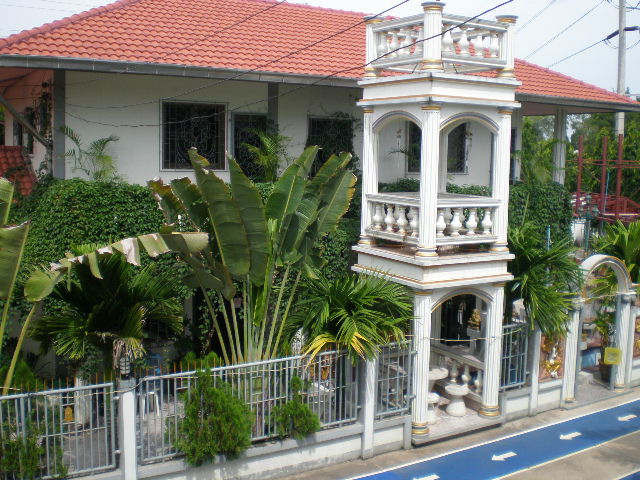 HOUSE SURROUNDED BY TILED PATIOS & THE DRAGON POOL
g) MAIN RESIDENCE (& Satellite Tower etc) (about 300 sq m inside) 4 bedrooms, 3 bathrooms, double kitchen, full aluminium windows w sceens & security grills. Built on the edge of the spectacular pool with 2 long balconies facing(but independantly walled) the gym & snack barvarious patios (all tiled) & ornate stone wall murals, surrounded by mature trees. an exotic aviary 3 telephone lines & high speed internet to bedroom #4 (maids bedroom & computer office #1).2m moving satttelite dish with about 300 channels on top of the spectacular (much admired ) 3 level Roman column sattelite tower(only known to exist in Thailand). A serious character house worthy of any elite & or famous owner. 2009 Value (excluding land) ......... B3,500,000 ... 2014 Value about B4,000,000-
_______________________________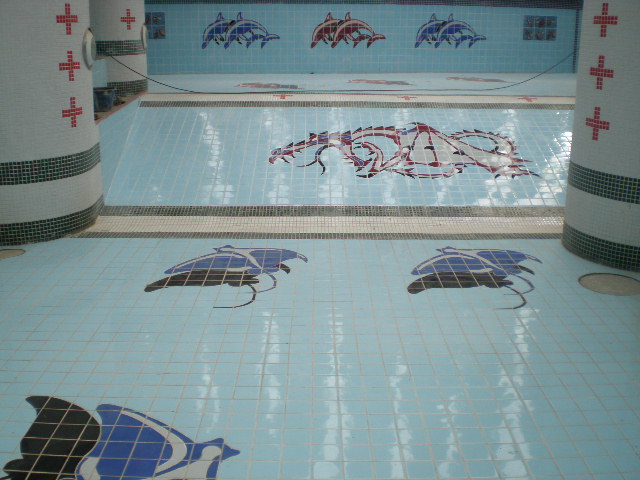 13m WIDE w/ WORLD CLASS TILE PICTURES (Best 100cu.m. pool in Asia)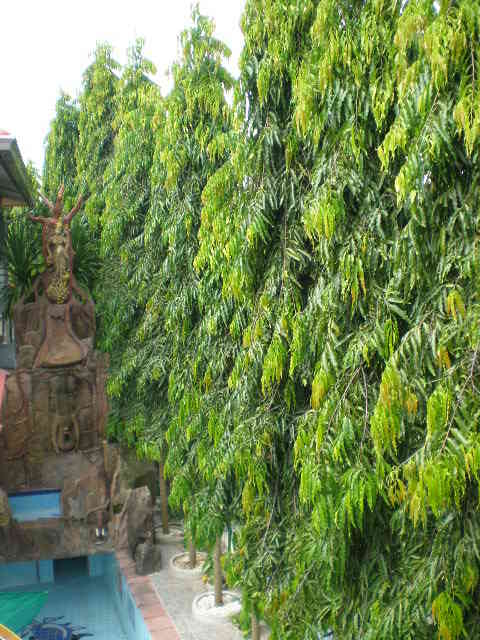 LUXURIOUS FOLIAGE & TRULY EXOTIC CORNERS SURROUND IT.
h.) VERY EXOTIC SWIMMING POOL (The most exotic in ALL north Thailand [possibly all Asia]. Freeform 100 cubic m in volume (that is 100 tons of water) with many mosaics pictures, a bridge (leading to the main residence), a water jet spa, 2 waterfalls, 2 pool balconies, 3 fountain water jets, many HUGE natural boulders, an underwater room (only known in ALL Asia), all surrounded by mature trees & ornate statues. Magical & a work of art. 2009 Value ........ B3,250,000 .... 2014 Value about B3,750,000-
____________________________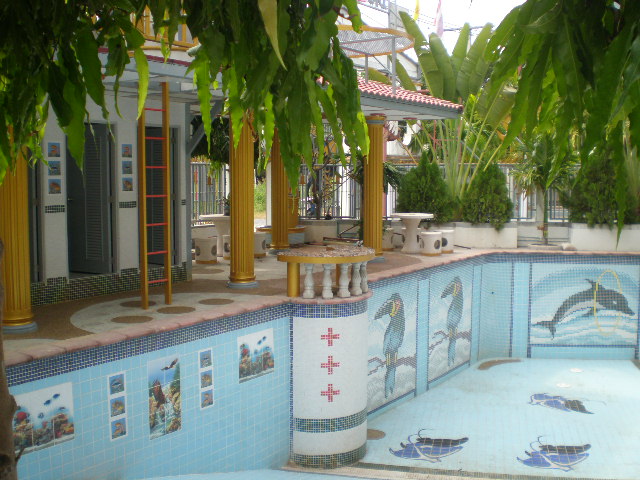 SOUTH WEST SIDE OF POOLSIDE PAVILLION (Floor 1)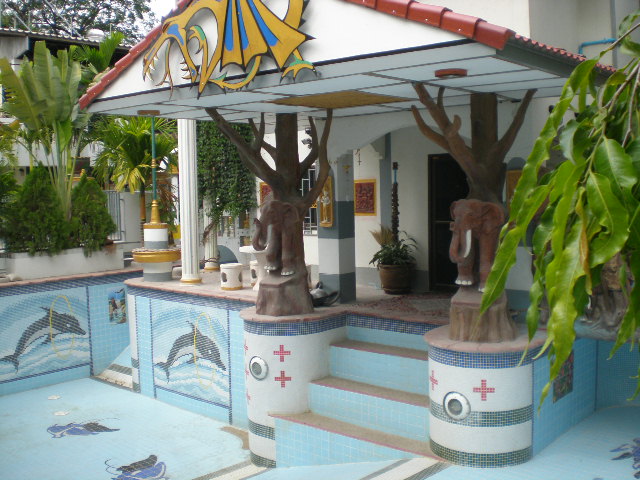 VIEW FROM POOLSIDE PAVILION 10m ACROSS THE POOL TO BIG HOUSE.
h.) POOLSIDE PAVILLION Runs 15m along the south side of the exotic pool with Roman columns, 3 x shower/changing rooms, baby pool, 2 x 2m solar heating towers, 2nd floor "Sala" (lounge), 3x fully tiled roofs & floors & surrounded by mature tropical trees.

2009 Value..................B1,750,000 .... 2014 Value about B2,250,000-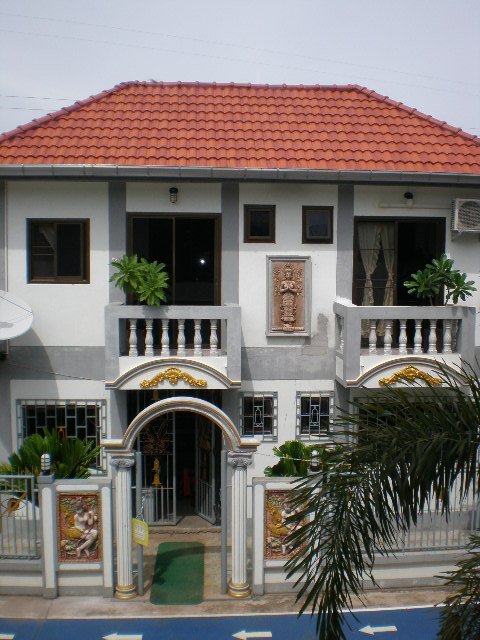 WORKSHOP & RENTAL ROOMS BUILDING IS OPPOSITE THE GYM
(1si) WORKSHOP t floor). Workshop fully fitted (if a little untidy) with power tools, bench press drills, gas & electric welding equipment, many racks of hand tools & a lock up store room for spares. Split up in to about six departments (according to trade). Also has one clean tiled shower room & toilet. Very strongly built with security grills all round. Also includes an outside steel, wood, pvc, sand, gravel etc store (about 5 x 4m).
i.) TWO RENTAL ROOMS (2nd floor) Two comfortable ensuite aircon & fan rooms with double bed, fridge, hot water, Satellite TV, balcony (overlooking Jogging Track #2 ), fully aluminium glazed with insect screens. Private & secure. Suitable for extra house guests or rental income (there is government planning permission for 20 (that's twenty) more such rooms on vacant land to the north of the gym complex which is part of (& owned by)Big Gym City. 2009 Value (Workshop Complex & Rent Rooms) ......... 2009 Value B1,750,000 .... 2014 Value about B2,250,000-
TOTAL VALUE OF PHYSICAL ASSETS (2014) = Well over B40,000,000 Thai Baht & rising (includes busy main .com website)
OFFERS INVITED ON THIS PRICE

Big Gym City WILL be worth B50,000,000+ in 5 years)

----------------------

(Don't forget this city (Udon Thani) is experiencing a development EXPLOSION caused by:

a.) Big Businesses FLEEING Bangkok (flooding).
b.) Bullet Train coming DIRECT from China (2015).
c.) Udon Thani has INTERNATIONAL airport (2k north of Big Gym City w/ no flyovers.
d.) The city of Udon Thani has almost no flooding even in Typhoons, BUT Big Gym City has ABSOLUTELY ZERO FLOODING, EVER in any weather (because it's ON A HILL)
e.) Big Gym City is BRACKETED by superstores (to east & West [see map]) & housing developments are everywhere w/ more coming weekly.
f.) Big Gym City is ON the Inner Southern Ring Road of this Provincial capital of Udon Thani (area code 41000) & because of it's strategic importance this Inner Ring Road is NOW being upgraded to 4 lanes with pedestrian bridge directly outside Big Gym City. All heavy traffic will (in due course) be required to use the new Outer Ring Road thereafter.

e.) ASEAN (Association of Southeast Asian Nations [like the EU except for Asia]) starts in 2015 with a HUGE expected influx of citizens from Brunei, Loas, Cambodia, Indonesia, Vietnam, Malaysia, Philippines, Burma & Singapore looking for no work permit, no visa (like the EU) work, property & lifestyle upgrades .... it IS coming.

___________________________________